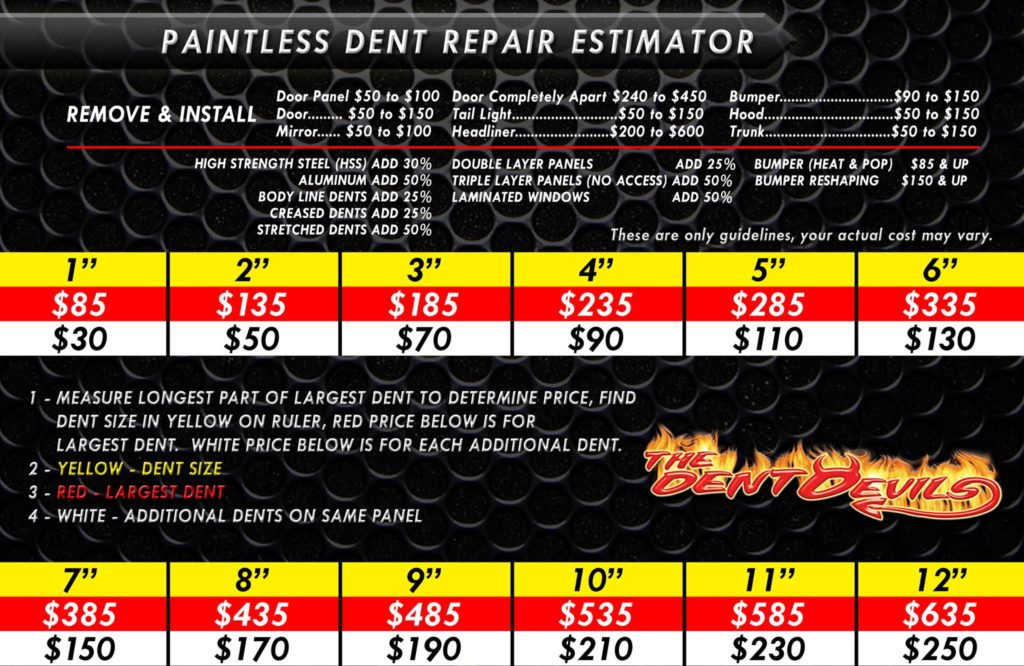 1. Soft ding with easy access starts @$85
2. Creases start @ $125
3. Body-line dings start @ $150
4. Stretched dings start @ $150
Our prices are determined by a combination of factors:
Color effects repairability:
Dark colors are easier to see the tool tip and have less chance of tool marks being left under the clear. Whites, Silver and tri coat pearls can be more difficult as it is harder to see the tool tip during the repair, they crack easier as the paint tends to be thicker and more brittle.
Displacement Dents are the easiest to repair:
The harder the displacement/ kink the higher the difficulty.
Stretched Damage is very challenging:
Stretched damage is far more difficult to repair and even more difficult on white, silver and tri coat paint . The tech has to be lot more careful not to crack the paint or leave push marks under the clear.
Stretched Creases are the most difficult:
The direction of the crease can double or triple the difficulty of the repair, What a tech can't see in their repair reflection they have a hard time seeing the tool tip.
Access:
Can we just slip a tool in or do we need to take things apart?
Mild Steel:
Easiest to work on, it is hard to push but it does not spring back like HHS or aluminum
HSS High Strength Steel:
Harder than mild steel because it springs back, and work hardens easier
Aluminum:
Extremely difficult as it spring back when you push it and also work hardens then cracks
Factory paint is easier to work on than repainted cars.
Rush Job cost more than ones we can we take our time on.
Flat area or body line?
Single panel, Braced area or Triple braced in area?
Examples of some of our paintless repairs and prices
When you get into extreme damage like these the amount of time can be incredible as it is not like changing a spare tire that their basically is not any variables and customers expectations can vary so do our prices.