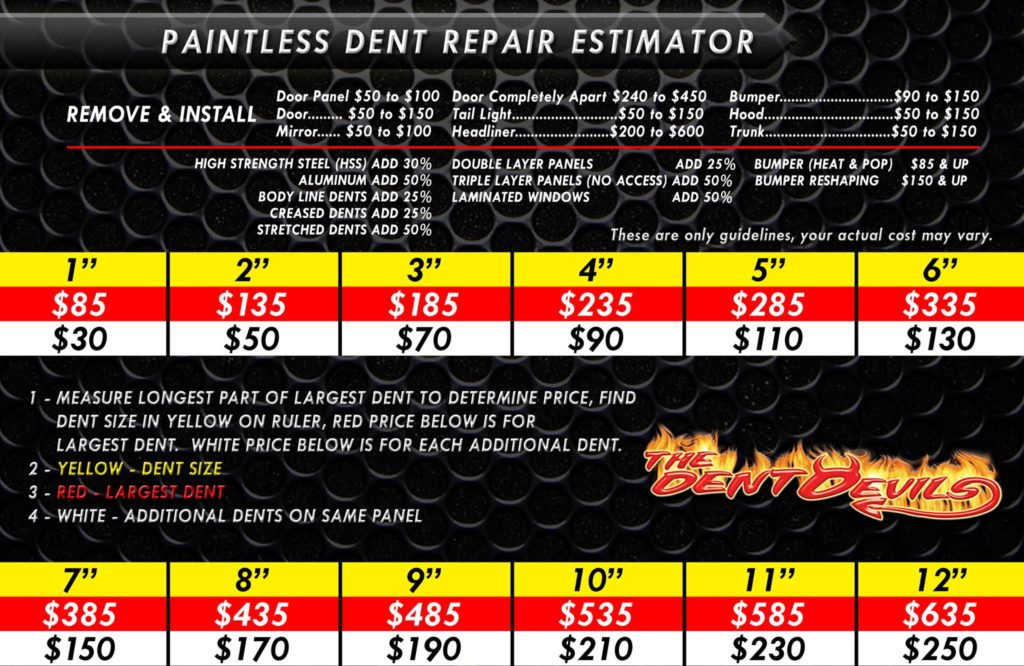 1.  Soft ding with easy access start @ $85
2.  Creases start @ $125
3.  Body-line dings start @ $150
4.  Stretched dings start @ $150
Our prices are determined by a combination of factors:
Displacement Dents are the easiest to repair:
The harder the displacement/kink, the higher the difficulty.
Stretched Damage is very challenging:
Stretched damage is far more difficult to repair and even more difficult on white, silver, and tri-coat paint. The tech has to be a lot more careful not to crack the paint or leave push marks under the clear.
Stretched Creases are the most difficult:
The direction of the crease can double or triple the difficulty of the repair, What a tech can't see in their repair reflection they have a hard time seeing the tool tip.
Access:
Can we just slip a tool in or do we need to take things apart?
Mild Steel:
Easiest to work on, it is hard to push but it does not spring back like HHS or aluminum
HSS High Strength Steel:
Harder than mild steel because it springs back, and work hardens easier
Aluminum:
Extremely difficult as it spring back when you push it and also work hardens then cracks
Factory paint:
Easier to work on than repainted cars.
Color effects repair-ability:
Dark colors are easier to see the tool tip and have less chance of tool marks being left under the clear. Whites, Silver and tri coat pearls can be more difficult as it is harder to see the tool tip during the repair, they crack easier as the paint tends to be thicker and more brittle.
Rush Job:
Cost more than ones we can we take our time on.
Flat area or body line?
Single panel, Braced area or Triple braced in area?
We also offer:
Push/Pull to Paint & Push/Pull to Filler (PTP & PTF)
Paintless Repairs with prices (PTP & PTF is less )

Stretched Crease across body lines $400 plus very difficult
Push/Pull to Paint & Push/Pull to Filler is less

Stretched Dent Difficult access $225 plus
Push/Pull to Paint & Push/Pullto Filler is less

Extremely stretched dent across body lines, Leverage was challenging. $750 plus
Push/Pull to Paint & Push/Pull to Filler is less


extreme edge dent $350 plus
Push/Pull to Paint & Push/Pull to Filler is less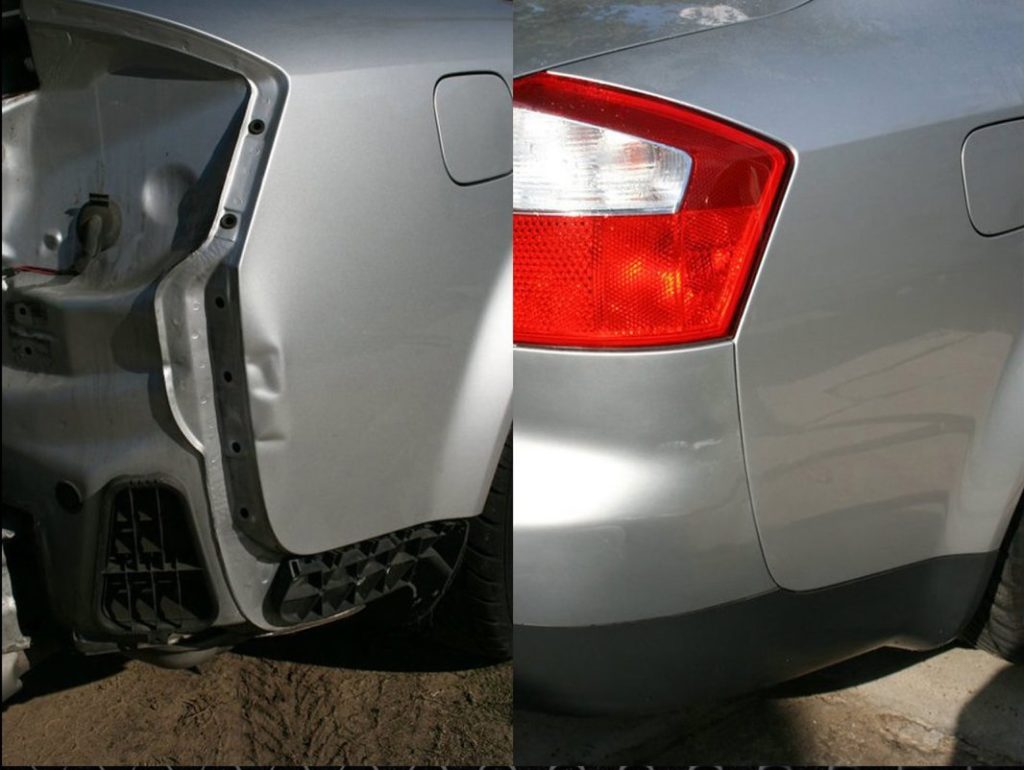 Stretched Edge dents silver car, difficult leverage, Audi's are a lot of work to take apart $1,100 plus
Push/Pull to Paint & Push/Pull to Filler is less

Aluminum Honda Insite electric car body shop was going to replace left quarter panel $2,500 plus
Push/Pull to Paint & Push/Pull to Filler is less

Large displacement dent lower fender over edges $500 plus
Push/Pull to Paint & Push/Pull to Filler is less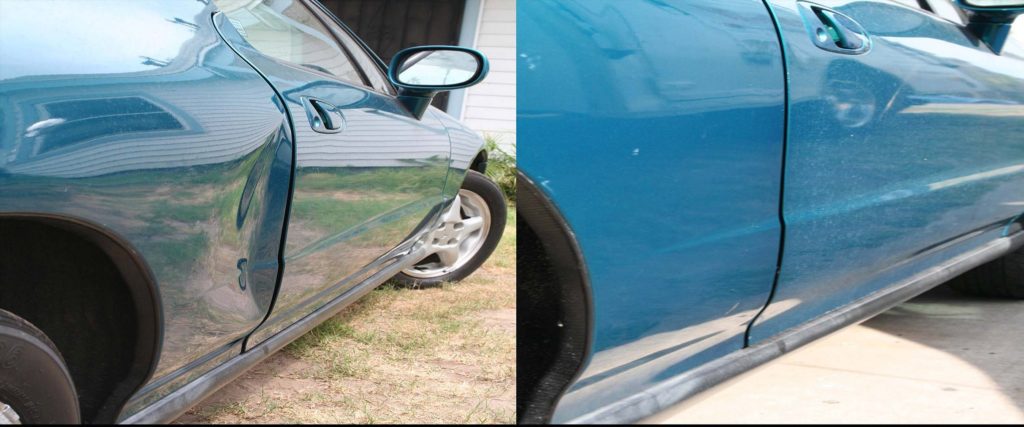 Displacement dent pulled edge $600 plus
Push/Pull to Paint & Push/Pull to Filler is less

Soft Displacement Dents semi hard crown to the edges $750 plus
Push/Pull to Paint & Push/Pull to Filler is less

large displacement dent with stretched areas $750 plus
Push/Pull to Paint & Push/Pull to Filler is less

Stretched metal and kinks, tri coat paint took door parts of access $600 plus
Push/Pull to Paint & Push/Pull to Filler is less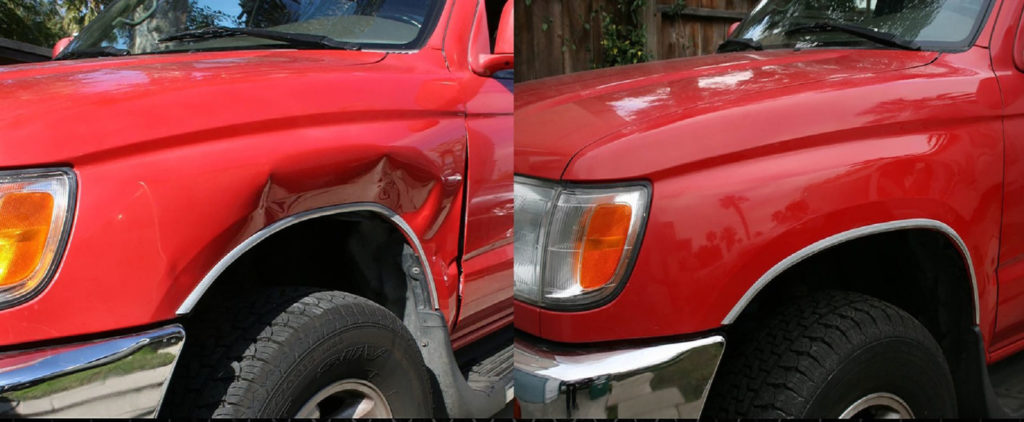 Extremely complex fender repair multiple crowns, body lines and dent went over the rear edge . Owner did not want to replace the fender as he feared the paint would not match and would fad different. $1,200 plus
Push/Pull to Paint & Push/Pull to Filler is less

Repair like this would be around $2500 plus
Push/Pull to Paint & Push/Pull to Filler is less
Complex dent over body lines challenging access $1,000 plus
Push/Pull to Paint & Push/Pull to Filler is less

Soft displacement dent $375 plus
Push/Pull to Paint & Push/Pull to Filler is less

complex damage $1,800 plus
Push/Pull to Paint & Push/Pull to Filler is less

Displacement dent over body lines $375 plus
Push/Pull to Paint & Push/Pull to Filler is less

minum body line dent $400 plus
Push/Pull to Paint & Push/Pull to Filler is less

Complex dent, challenging access, door taken apart and off the car $2,000 plus
Push/Pull to Paint & Push/Pull to Filler is less

complex stretched dent $1,500 plus
Push/Pull to Paint & Push/Pull to Filler is less

displacement damage kinked up top and lower $400 plus
Push/Pull to Paint & Push/Pull to Filler is less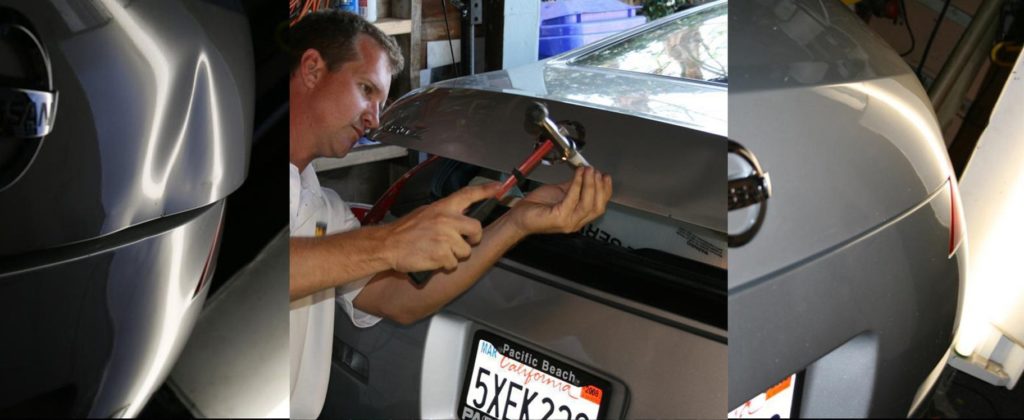 Displacement dent crown of top dent went over lower edge $750 plus
Push/Pull to Paint & Push/Pull to Filler is less

stretched displacement damage over body lines and to the edges, Access and leverage was a challenge $1,000 plus
Push/Pull to Paint & Push/Pull to Filler is less

Extremely stretched impacts and over body line $500 plus
Push/Pull to Paint & Push/Pull to Filler is less

Stretched displacement dents to the edges excess and leverage challenging $600 plus
Push/Pull to Paint & Push/Pull to Filler is less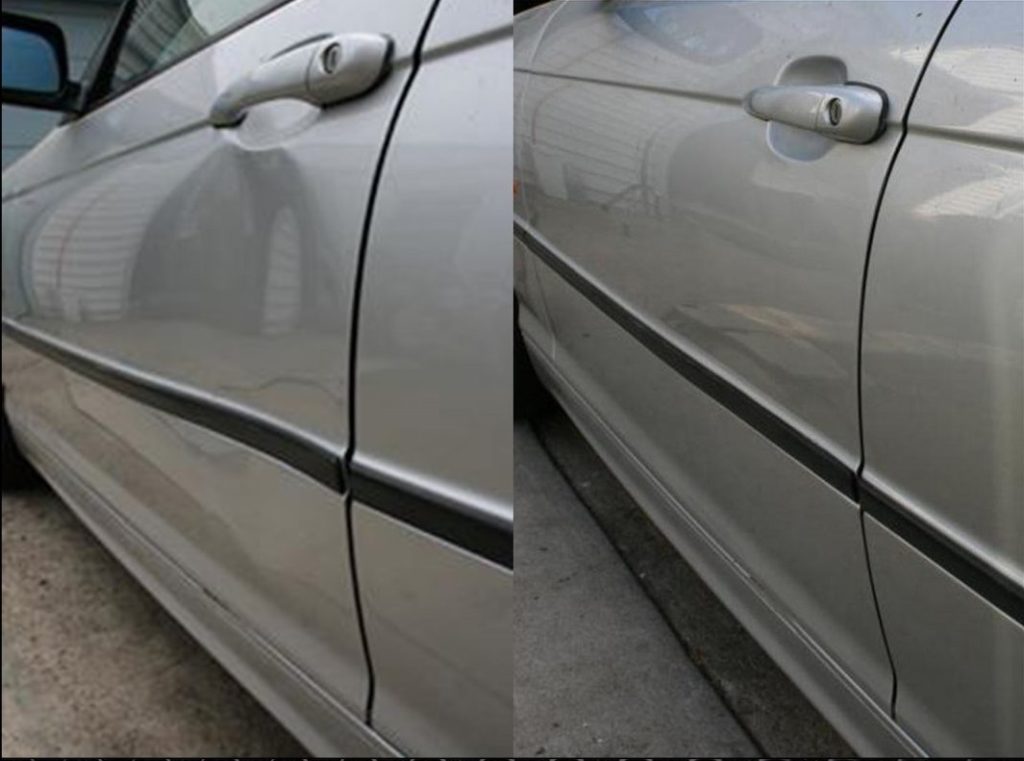 Displacement dent over body-lines and to the edges, Access and leverage challenging $1,000 plus
Push/Pull to Paint & Push/Pull to Filler is less

Bumper reshape $200 plus Heat and Pop $100
Push/Pull to Paint & Push/Pull to Filler is less

Bumper reshaping dent was left in for several months $300 plus Heat and Pop $150
Push/Pull to Paint & Push/Pull to Filler is less

Edge dent / displacement owner just wanted his door to open and close $225 plus

Push for filler: Owner just wanted the tail light to fit and the trunk not to leak. $700 plus Other shops said it needed a new quarter panel

reshape $200 plus Heat and Pop $100
Push/Pull to Paint & Push/Pull to Filler is less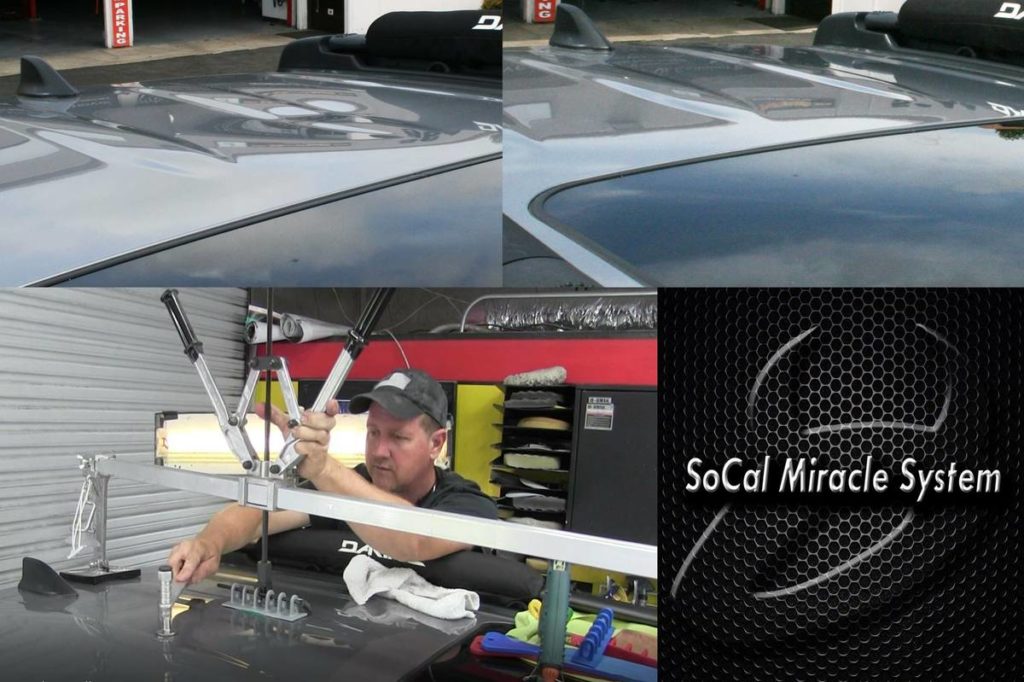 Roof Dent $500 plus
Push/Pull to Paint & Push/Pull to Filler is less

Complex stretched dents over edges and body lines. Owner just wanted improved other shops wanted to replace the panel $1,200 plus
Push/Pull to Paint & Push/Pull to Filler is less

complex dents over body lines access was nice $500 plus
Push/Pull to Paint & Push/Pull to Filler is less

Aluminum extreme repair dents over body lines and over edges $1,000 plus
Push/Pull to Paint & Push/Pull to Filler is less