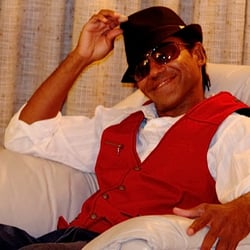 Redoing the bumper from a confrontation with an Angry Shopping Cart! Also removed a set of door dings.
This guy is the real deal.  It is not a big shop, but the work is the best I've seen.  The owner worked on my car and did more than he was paid to do by Allstate.
I worked with a guy named Eddie, who was very nice and came across as someone who really pays attention to details.  The Dent Devils, as it stands now is like a little "mom and pop store," where the people know you and actually care about what's going on.  At least that was my experience.
Now my insurance company, on the other hand, dropped the ball, left my car there a lot longer than it needed to be, and forced the poor guy to wait while they send an adjuster out, twice. Yada, yada, etc., etc.  (I have to address that in another review). But the point of it is, that the owner Eddie, who my "old" insurance company referred me to, stood by me through all the calls, faxes, and bs the insurance company threw at him for 20 days.
I really should buy the guy, lunch for all of the crap he had to deal with and to top it off.  He noticed a little ding in my rental and he pulled it for me in 5 minutes, while I was picking up my other car.  Who freakin' does that?  Just a good dude, 5 STARS for sure!