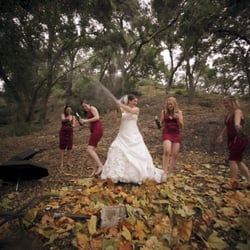 Ok, for the second time my car was violated in a parking garage.  She is beginning to feel like a victim.  Some f**k was precious enough to rip off the exterior lock part of the handle flinging bits of her pieces across the floor.  He ravaged her insides and left her there abandoned and damaged.
Our helpful building man Bob notified me of the event early this morning.  After having the thrill of telling dear sweet granny her/my credit card was stolen, having to cancel my accounts, learning I get to go to the DMV and have my picture taken to get a new driver's license, getting the house rekeyed, etc., etc., etc I was DREADING the call to get the door repaired.
Besides having been to a few car shops my dad worked next door to an auto repair store.  So, I have seen how wonderfully they treat women.  After they make the loose nut behind the wheel joke add the dumb woman discount of 150% they explain everything to you in idiot terms.  Because without that y chromosome there is no way we could understand how cars work right?
I started with Collision Caliber – "oh we don't give estimates".  Oh, well you don't want my dollars then.  Lynee temperature rising.
I found Dent Devils here but I tend to stay away from places with 5-star reviews from people that have no friends and only one review.  Against my better judgment, I called.
Eddie answers the phone himself – I appreciate this.  It is nice to talk to the person in charge.
Eddie asks detailed questions in a way that you can tell he talks to car idiots up to car geniuses.  I.e., he explains it for a clueless person in a way that wouldn't offend someone in the know.
Eddie works with people that can handle anything he can't.
Eddie allows emailing pictures to get a free estimate.
Anyway, so far he has passed my girl's test of being nice.  Let's see if he passes the man test of fixing things properly.